A change of command ceremony took place on June 6 at the regularly scheduled meeting when Post Commander Marty Peterson passed the gavel to newly elected Commander Ernie Griffith. The change in leadership became official in July.
The change marked the end of an era with Commander Peterson serving 8 consecutive annual terms. Over the 90-year history of the post, no other person had served more than 3 consecutive terms.
Peterson affiliated with Post 845 around 2006. His first elected office was as a trustee – a position related to auditing the post's financial records. He subsequently was elected to the position of Junior Vice Commander and Senior Vice Commander prior to being elected Commander in 2015.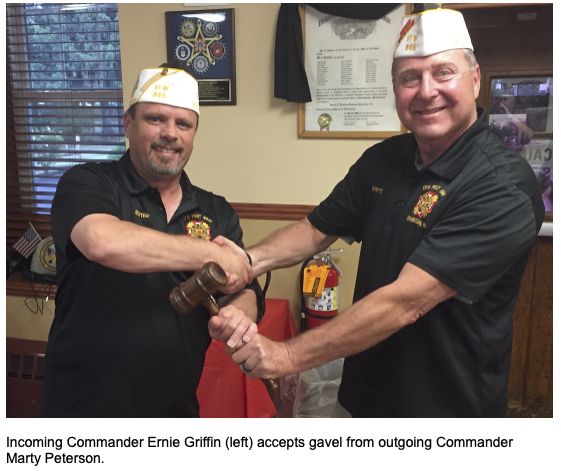 During his tenure as Commander, he saw the membership of the post grow in both veteran members and non-veteran social members. He said that what pleases him most is the good that the Post has done for the community. During the years that he served in a position of leadership the post raised and donated over $1 million to various youth activities, first-responders, veteran organizations, the Chamber of Commerce, food pantries, and similar charitable groups. He cited numerous times when the Post provided aid to veterans who were suffering temporary financial difficulties.
Peterson intends to remain active with the post and has accepted an appointment to serve as the post adjutant (secretary) supporting his successor and friend, Ernie Griffith.
Peterson served on active duty in the US Navy as a petty officer before transferring to the Air National Guard. He served in five overseas combat tours and retired in 2018.
The newly elected Commander, Owen (Ernie) Griffith had served as the Post Quartermaster (treasurer) for seven and a half years, essentially the same time frame as Commander Peterson. Griffith has been intimately involved with the day-to-day activities of the post and is well qualified to assume the reins of leadership. Griffith enlisted in the US Army after the September 11 attacks and was grievously wounded during his second tour in Iraq as a Combat Engineer. He was medically retired from the army in 2012 as a Sergeant First Class and accepted a civilian job as an Intelligence Analyst for the Department of the Army. He retired from government service in 2015 and has devoted countless hours to service at the VFW Post.