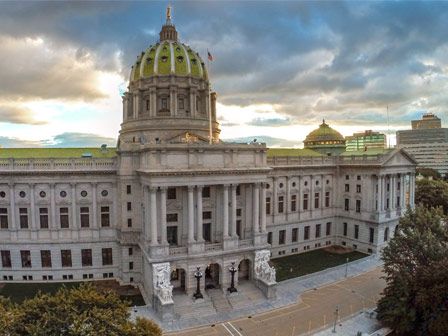 HARRISBURG – Rep. Karen Boback (R-Lackawanna/Luzerne/Wyoming), chairman of the House Veterans Affairs and Emergency Preparedness Committee, on Monday led a voting meeting at which six pieces of legislation to benefit Pennsylvania's military members, veterans and emergency responders were unanimously approved.
The proposals included House Resolution 129, sponsored by Rep. Tracy Pennycuick (R-Montgomery), which would require the Joint State Government Commission to study and report findings and recommendations on prominent issues facing female veterans, including post-traumatic stress disorder, traumatic brain injury, military sexual trauma, and alcohol and substance abuse.
"Pennsylvania's more than 71,000 women veterans often have different needs and issues when it comes to their health care. Whether it be how they process and deal with trauma and other mental health issues, they are not being adequately served under the current male-focused health care model in place," Pennycuick told the committee.
"This legislation is long overdue. Our female veterans deserve the same kind of quality health care benefits as their male counterparts," said Boback. "I am pleased we were able to move this important bill through the committee and look forward to its consideration in the House."
Boback is the prime sponsor of House Bill 1867, legislation that would establish the Purple Star School Program. Under the proposal, Pennsylvania schools would be designated as Purple Star campuses if they demonstrate military-friendly practices and meet certain requirements such as: having a military liaison staff member; a webpage that includes resources for military students and families; and professional development training opportunities for staff members on issues relating to military students. The program is voluntary.
"This program would recognize schools that provide strong services for any educational transition issues encountered by military families and their children, who may experience multiple moves during their school-aged years," Boback explained. "The Purple Star designation would signal that a school supports the social and emotional well-being of military children who are adjusting to new schools."
Other measures advanced by the committee include:
•House Bill 1962, sponsored by Rep. Lou Schmitt (R-Blair), which would place a Pennsylvania Career Fire Chiefs Association member on the state 911 Advisory Board.
•House Bill 2096, sponsored by Rep. Todd Polinchock (R-Bucks) which would authorize certain medals and awards to be presented to civilians and military members of a friendly foreign nation.
•House Resolution 166, sponsored by Boback, which would urge the State Council on Interstate Education Opportunity for Military Children and the National Compact Commission to make National Guard/reserve members eligible for the Military Interstate Children's Compact.
•Senate Bill 739, sponsored by Sen. Pat Stefano (R-32), which would authorize the Pennsylvania Professional Firefighters Association, Pennsylvania Career Fire Chiefs Association, Department of Community and Economic Development secretary or designee, and Department of Conservation and Natural Resources secretary or designee, as voting members of the application review committee for the state Fire and Emergency Medical Services Loan Program.
All six measures will next be considered by the full House of Representatives.