With most Post 845 veterans now being vaccinated against the Covid 19 virus, several members participated in special events related to Memorial Day. That was not the case in 2020 when health department restrictions canceled most public gatherings.
Memorial services at local cemeteries
Post 845 held a memorial ceremony at eight different cemeteries including St. Paul's UCC, Lionville, Fairview EPC, Glenmoore, United Methodist Church, Glenmoore, All Souls Cemetery, Coatesville, Forks of the Brandywine EPC, Glenmoore, Hopewell UM Church, Coatesville, St. Joseph's Catholic Cemetery, Dowingtown, and Northwood Cemetery, Downingtown. Post Commander Marty Peterson led the Post details. Post veterans also joined American Legion members in services at Kerr Park on Memorial Day and conducted a memorial ceremony at the Post to culminate three days of honoring deceased veterans.
Pictured below are Post 845 members at All Souls Cemetery on Manor Road in Coatesville on Sunday, May 30. The ceremony includes the symbolic gesture of placing boots, a rifle, and helmet in front of a military veteran's grave. The post takes pride in honoring the lives of all deceased veterans who served their country during times of war and peace.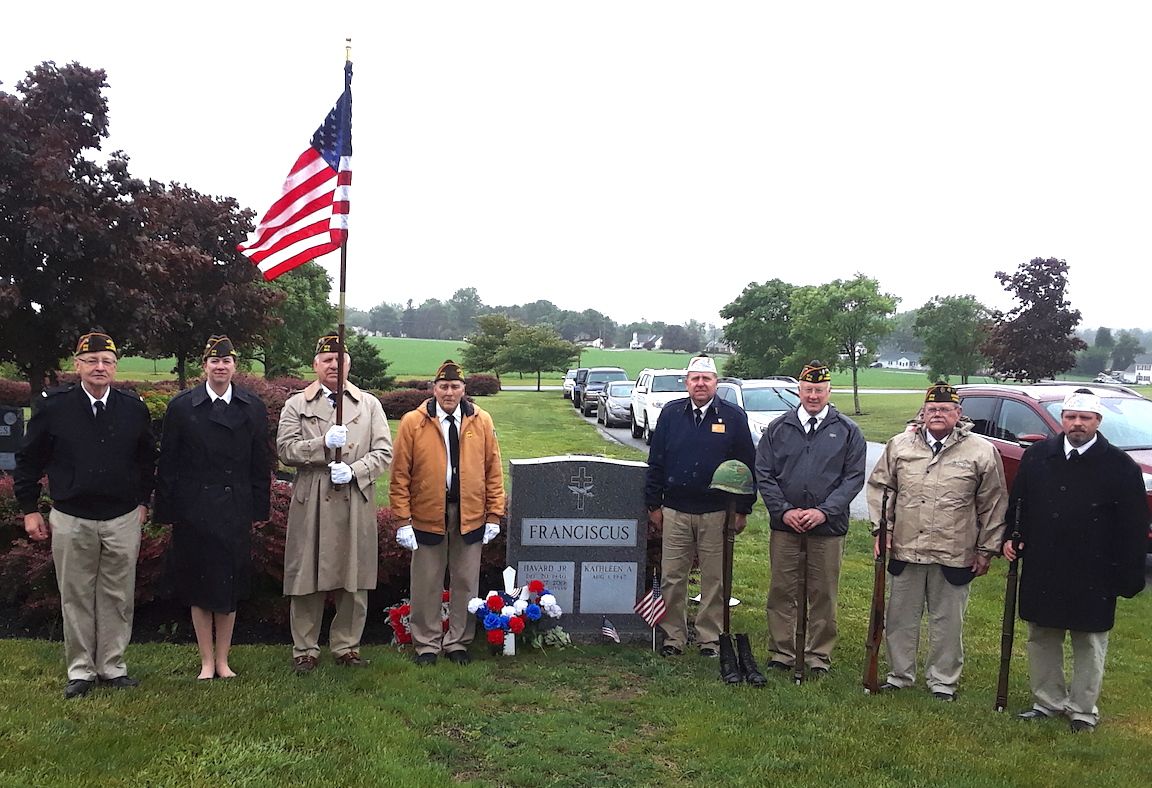 Pictured above from left to right are: Bob Fernholz, Jr. Vice Commander Melissa Harrop, Post Chaplain Lou Franconi, BHA member Joe Ellis, Commander Marty Peterson, Sr. Vice Commander Tom Flick, John Mitchell, and Quartermaster Ernie Griffith.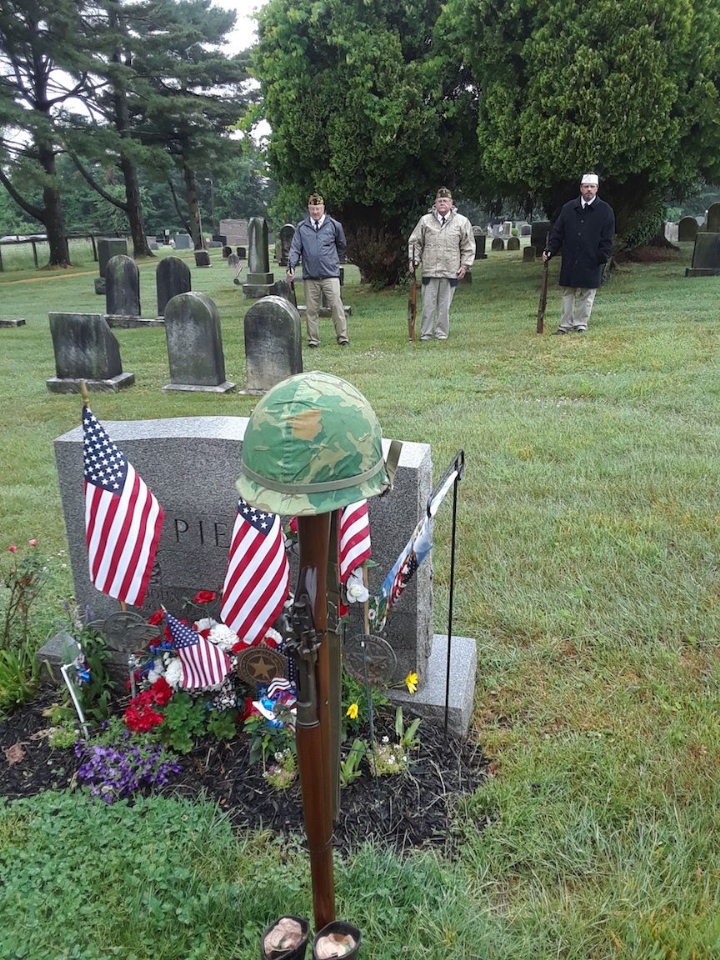 Pictured above is a "Battlefield Cross." The Battlefield Cross, Fallen Soldier Battle Cross or Battle Cross is a time honored military memorial that symbolizes the honor, service and sacrifice of soldiers killed in battle. In the background are from left: Sr. Vice Commander Tom Flick, John Mitchel, and Quartermaster Ernie Griffith. For more information on the Battlefield Cross click here.
Any Post member is encouraged to participate in ceremonies that honor the flag and fallen comrades. Uniforms and training are provided. Anyone who is willing to devote a few hours each year to honor our country is urged to contact the post by calling the post or by email at info@vfw845.org.
This year, VFW Post 845 was invited to participate in an outdoor memorial ceremony at Lionville Middle School on Thursday, May 27. Congresswoman Chrissy Houlahan was the keynote speaker.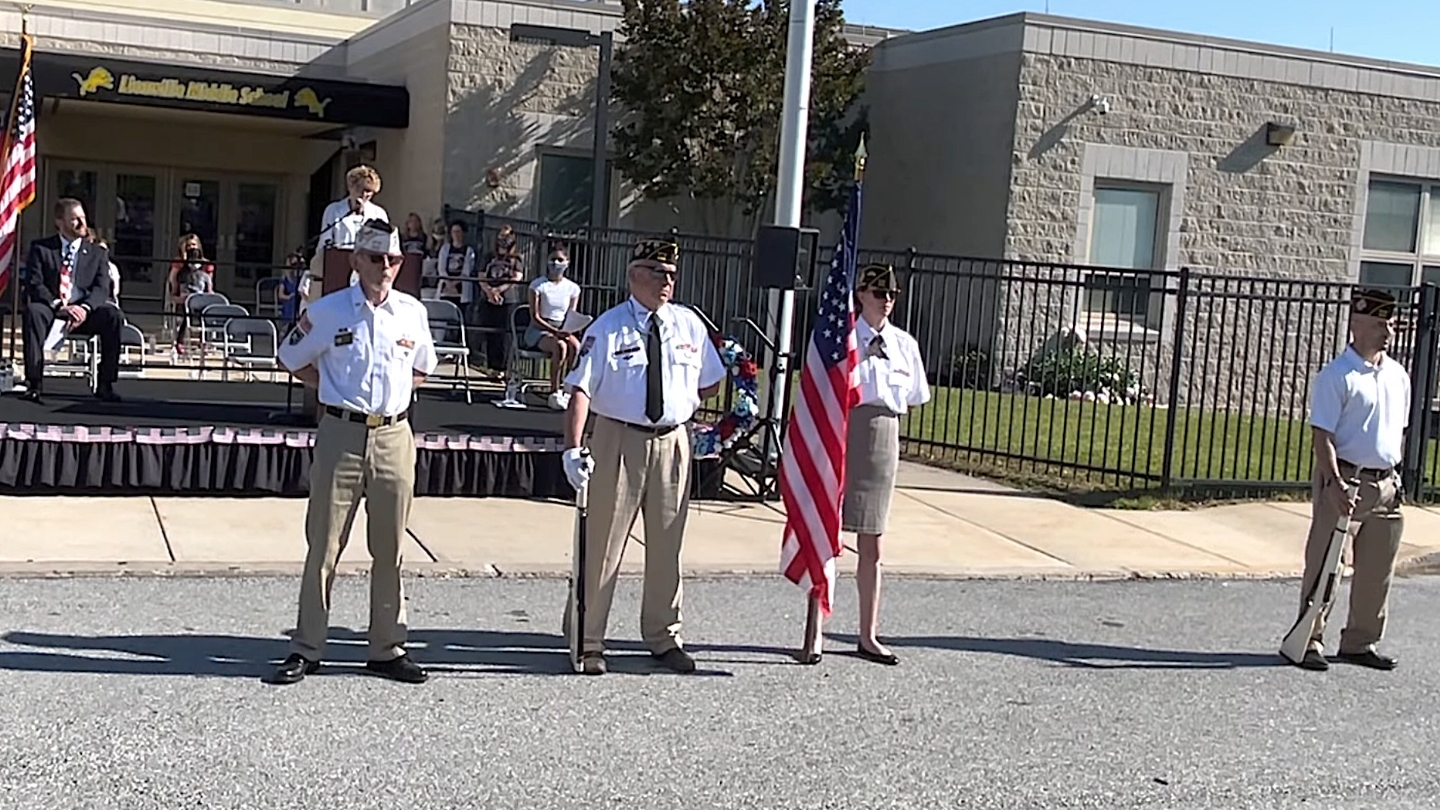 Post members who formed an honor guard included (from left to right) Tom Ames, Lou Franconi, Melissa Harrop, and Matthew Hartsough. Taps was played by Ernie Griffith and a rifle salute was presented by Tom Flick, Bob Fernholz, and Jack McFadden. Congresswoman Houlahan is at the podium in the background.